Dentures – Corpus Christi, TX
A Tried-and-True Approach to Tooth Loss
Do you suffer from tooth loss? If so, you're not alone – as many as 120 million Americans are missing at least one tooth. The issue really isn't uncommon. That said, this problem isn't something you have to endure. You can always restore your smile with dentures in Corpus Christi! In particular, those offered by Dr. Pitarra's office will give you a gorgeous grin. To learn more about their features and benefits, just keep reading or book a visit with our office soon.
Who is a Good Candidate for Dentures?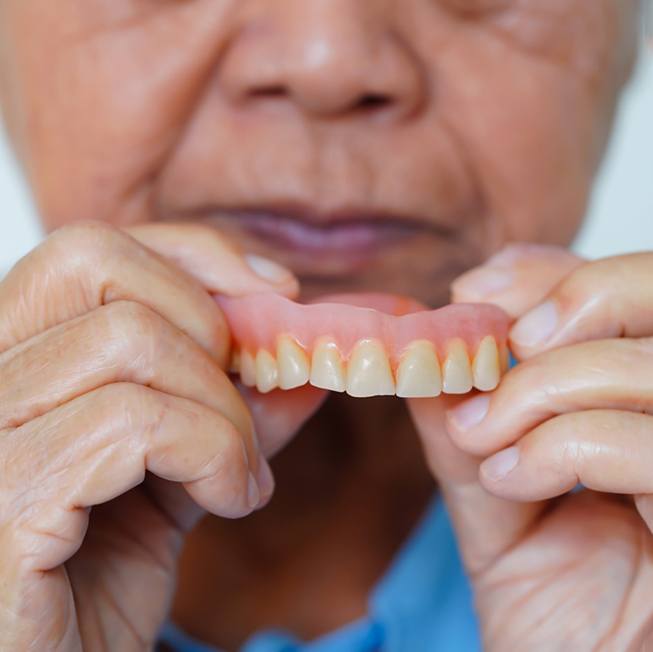 As you'd imagine, ideal denture candidates face the challenges of missing teeth. They're people who struggle to eat, speak, and even smile due to lacking chompers. The prosthetics, after all, are most likely to help patients who face such difficulties.
Still, you'll need to consult our team to confirm your candidacy. Doing so lets us assess your oral health and see if dentures could work for you. Our office will draft a treatment plan tailored to your needs if they would.
(Do remember that some with tooth loss wouldn't benefit from dentures. Another treatment might be better, for example, if someone doesn't lack all the teeth along an arch.)
Types of Dentures
As it happens, the consult visit also settles which type of denture (if any) would suit you. We'll walk you through each option's pros and cons and their respective costs. In general, you can expect us to detail these three choices:
Partial Dentures
Partial dentures are those that replace one or a few missing teeth. They usually fill a narrow gap in your smile, so they're secured with metal claps that loop around other pearly whites.
Partial dentures are made from a gum-colored acrylic base, one that houses the replacement teeth. They thus blend seamlessly with the rest of your smile.
Full Dentures
In contrast to partials, full dentures replace an entire arch of teeth. As such, they lack abutments and stay secure with natural suction instead of clasps.
A full denture's base doesn't differ much from a partial's. The former also relies on acrylic, gum-colored resins. However, it does tend to fit more snugly over the gums.
Implant Dentures
If you'd like something more permanent and stable, implant dentures are a good choice. They make a great alternative to those unhappy with traditional models.
Per their name, implant dentures attach to dental implants — restorations surgically placed in the jawbone. The latter fuse with your jaw over time, so this denture type doesn't slip. Plus, they look a bit more lifelike than the other kinds.
The Benefits of Dentures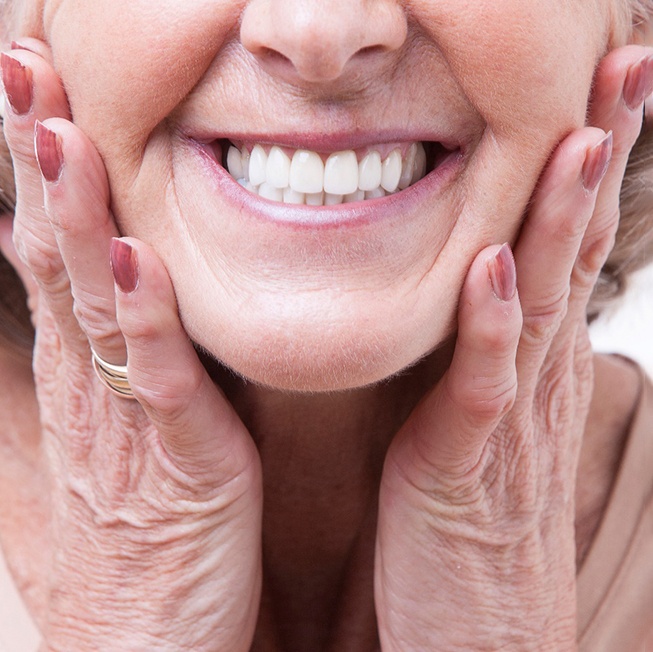 You can expect several perks from dentures in Corpus Christi. Among them, the most common ones are:
Natural-looking Results – With today's technology, dentures look more lifelike and natural than ever. Therefore, you can trust them to give you a beautiful smile.
Younger Looks – By filling out otherwise-hollow cheeks, dentures can help your face look years younger.
More Confidence – Feeling self-conscious about missing teeth is all too familiar. Thanks to dentures, though, you'll have more confidence among friends, family, and coworkers!
Cost-Effectiveness – Given proper care, a low upfront price can give you a new smile that lasts over a decade!