Full & Partial Dentures – Corpus Christi, TX
Full Solutions for Partial Problems
When patients experience advanced tooth loss, the result can be devastating to oral and overall health and the patient's confidence. Luckily for Corpus Christi dental patients of Sarah Pitarra, DDS, we offer a wide range of tooth replacement solutions to renew oral health and function, and maybe most importantly, improve the patient's confidence to smile in every personal and professional situation. For those patients who have experienced more advanced tooth loss, a full or partial denture may be the best option, and for those interested in a little more stability, we offer dental implant-supported dentures. If you want to learn more about your restoration options, contact our and team to schedule a tooth replacement consultation to discuss full and partial dentures in our Corpus Christi, TX dental office today. We look forward to helping you restore your full, healthy smile.
Why Choose Sarah Pitarra, DDS for Full & Partial Dentures?
Exceptional Custom Dental Treatment
Personalized Care in Your Best Interest
Natural-Looking High-Quality Materials
Partial Dentures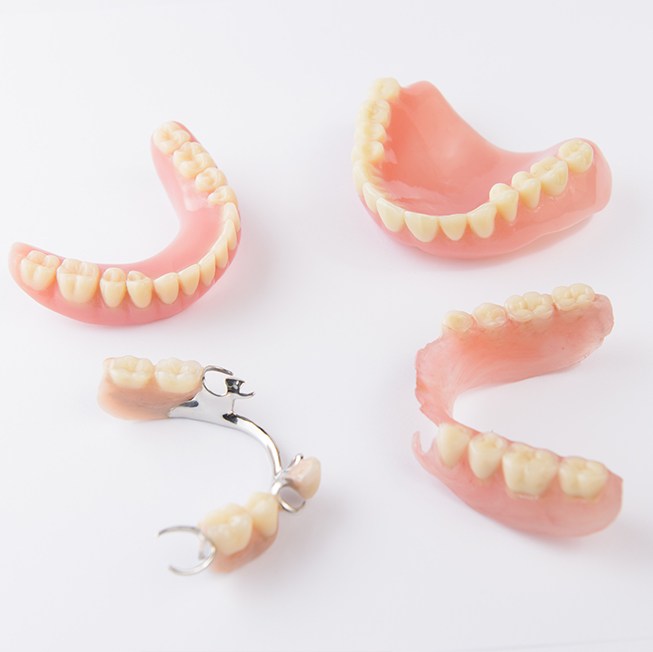 Partial dentures, sometimes referred to simply as partials are used to replace numerous consecutive and/or nonconsecutive missing teeth. These restorations are crafted using a gum-colored base material to support all of the replacement teeth. The base material is shaped to fit snuggly between remaining healthy teeth. Then, the entire prosthetic is snapped into position using metal clasps attached to the surrounding teeth.
Complete Dentures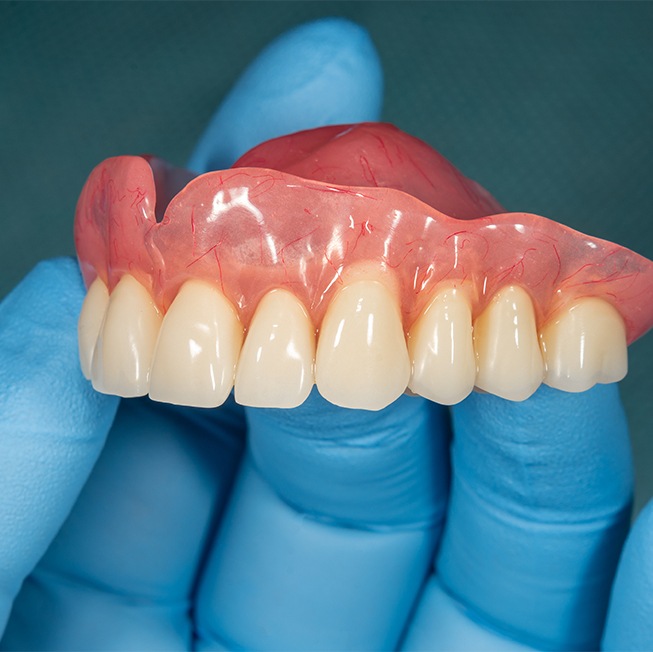 Full dentures are crafted similarly to the way that partials are made, using a gum-colored base material to support an entire row of teeth. Because there are no remaining teeth to support the restoration, the prosthetic is molded to fit snuggly against the gums. The denture is held in place through natural suction between the gums and base material of a well made prosthetic, but when dentures begin to shift and gum tissue starts to diminish, the fit becomes less stable. At this time, patients may choose to use denture adhesive to extend the life of their dentures. In some cases, we're also able to make small adjustments to the denture to restore the comfortable fit.
The Denture Process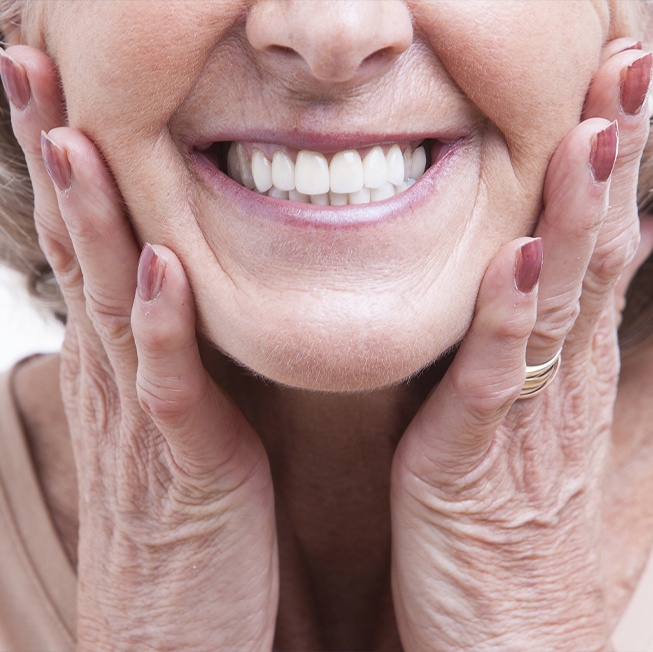 Creating the perfect denture can take some time, but in most cases, we can provide a temporary prosthetic to keep you smiling until your final restoration is completed. The process begins with your tooth replacement consultation. When we determine what the best solution is to meet your needs, we'll begin by removing any damaged, decayed, or compromised teeth. We may also need to provide other dental care to renew your oral health before creating your denture, including treatments for gum disease, infection or inflammation in the soft tissue, and more. Once your smile is healthy, we'll capture impressions of your prepared bite. These impressions are sent to the dental lab where your custom restoration is crafted. When we receive your denture, you'll return to our dental office, so we can check the fit. In many cases, the denture works well, but some patients do need us to adjust these prosthetics. Very minor shifts can often be completed in our dental office, but for major changes, we'll need to return the denture to the dental lab.
Dental Implant Supported dentures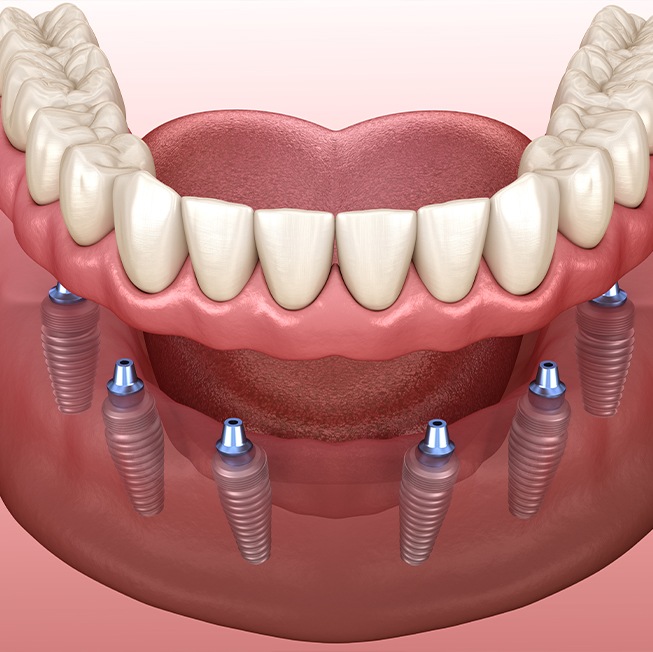 Many dentists now consider dental implant supported tooth replacement to be the gold standard in tooth replacement solutions. This is especially true for dentures. Traditional dentures only restore about 20% of chewing ability at the very best. Dental implant-retained partial and full dentures can renew 70% or more chewing ability. For this reason, patients are able to restore greater chewing ability and more natural function. Additionally, these restorations can last much longer than traditional dentures without the need for repair or replacement.
Understanding the Cost of Dentures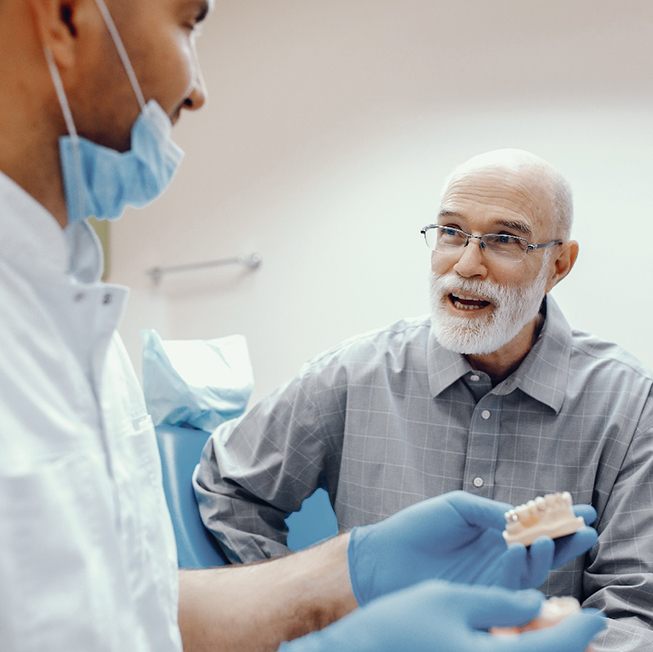 There are a number of different factors that influence the cost of dentures in Corpus Christi. Since the final cost can vary from patient to patient, it's important to first schedule an initial consultation at our office. During this visit, Dr. Pitarra or Dr. Vela will carefully examine your mouth, listen to your smile goals, and discuss what you can expect to pay to restore your missing teeth. To learn more about the cost of dentures and how to make them affordable, keep reading below.
Factors that Affect the Cost of Dentures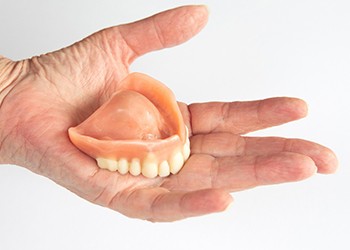 Three of the biggest factors that will influence the cost of your dentures include:
If you need preparatory treatment, such as extraction or gum disease therapy
The number of teeth you are missing
The materials used to make your custom dentures (which can include acrylic and porcelain)
When it comes to dentures, it's important to keep in mind that cheaper is not always better. In fact, just the opposite. Very cheap dentures are more likely to break easily or require replacement sooner than expected. You are likely going to use your dentures every day. Why not invest in a high-quality restoration that will fit comfortably and last longer?
Are Implant Dentures More Expensive?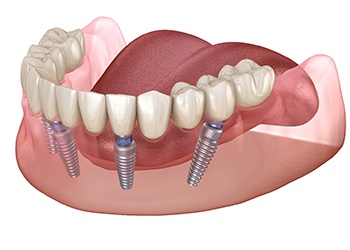 Implant dentures typically cost more upfront than traditional dentures. However, they also offer a range of benefits that traditional dentures do not. Implant dentures attach to dental implants that have integrated with the jawbone. These implants replace missing tooth roots and provide maximum stability for artificial teeth. Implant dentures look natural, restore chewing power, and can last for decades with proper care and regular visits to a denture dentist in Corpus Christi. Traditional dentures, on the other hand, typically must be replaced every 5 to 7 years. The many unique benefits of implant dentures and their long-lasting nature make them a wise investment.
Does Dental Insurance Cover Dentures?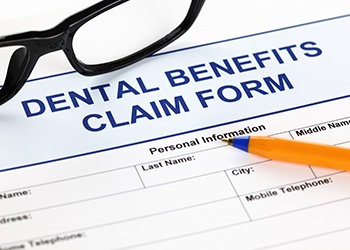 Most dental insurance plans consider dentures a major procedure and cover around 50% of the cost. However, every insurance plan is slightly different. Our knowledgeable staff will gladly look over your policy to help you understand your coverage before starting treatment. You can rest assured that we will do everything we can to maximize your insurance benefits and lessen your out-of-pocket expenses. We will even file insurance claims on your behalf so you can avoid the hassle!
Other Options for Making Dentures Affordable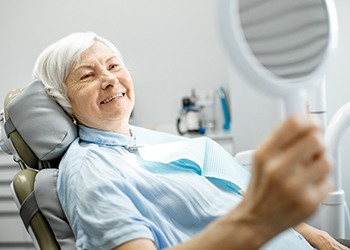 Even if you do not currently have dental insurance, there are other ways to reduce the costs of your dentures. For example, qualified patients can break up of the cost of dental treatment into manageable monthly payments through CareCredit. A trusted financing organization, CareCredit offers little-to-no-interest payment plans that can help you restore your smile without busting your budget. Ask our staff for more details!
At the office of Dr. Sarah Pitarra, we are committed to helping you achieve your smile goals in an affordable way. To learn more about the cost of dentures in Corpus Christi, schedule an initial consultation today.
Denture FAQs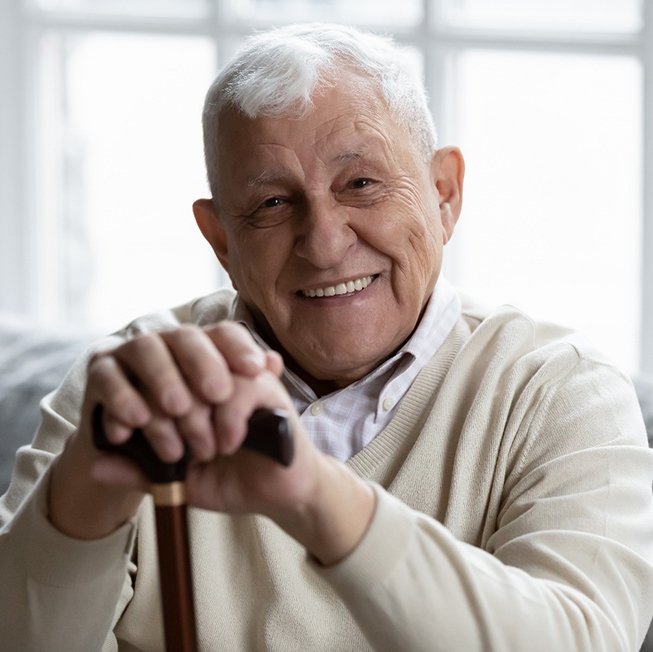 Getting dentures in Corpus Christi doesn't happen overnight, so you're likely to have a few questions about the process. Dr. Pitarra and Dr. Vela will be more than happy to explain anything you might want to know about dentures, whether it's about the placement process or how to maintain them afterwards. Since we've gotten so many denture questions from our patients, we've listed the answers to some of the more common ones below. You can request an appointment with us if there's anything else you'd like to ask your denture dentist in person.
How Long Will I Have to Wait to Get Dentures After Having Teeth Pulled?
If teeth need to be extracted to make room for dentures, you can usually expect a wait time of six to eight weeks before new teeth are placed. This might seem a little long, but it's important that your gums have all the time they need to heal properly before they start supporting dentures. It's sometimes possible to place immediate dentures on the same day as tooth extractions, but you'll eventually need to have them switched out since the jawbone will change shape as it recovers. Dental implants change the timeline significantly, as you also need to account for three to six months of osseointegration before the dentures can be attached.
Does It Hurt to Get Dentures?
If we need to extract some of your teeth before giving you dentures, we'll numb your mouth before the procedure. You'll experience some soreness over the next few days, so take pain medication as directed. After you've received your actual dentures, you'll go through an adjustment period that could take anywhere from a few weeks to a few months. Your gums may feel irritated while they're getting used to your dentures, but this is completely normal; there shouldn't be any cause for alarm unless the pain starts growing worse.
Can I Sleep with My Dentures?
You can, but that doesn't necessarily mean you should. Wearing dentures puts pressure on your gum tissue and jawbone; taking your teeth out at night will give them a chance to rest and recover for the next day. Furthermore, nighttime is the perfect opportunity to clean your dentures by soaking them in a specialized solution. Make sure that they're completely soaked, as they could change shape if they dry out. Also, when rinsing your dentures, only use room-temperature or cool liquids. Hot water could damage them.
Will Dentures Change the Way I Talk?
Speaking with dentures isn't particularly hard, but you will need to spend some time getting used to it. You may have a slight lisp or muffle your words at first because your mouth is used to speaking with natural teeth or no teeth. Over time, your tongue will "relearn" how to move in relation to your dentures so that you can speak properly. Reading out loud can help speed up the adjustment process, and you can also improve the stability of your dentures with small amounts of adhesive.