Dental Implants – Corpus Christi, TX
Fully Detailed, Comprehensive Tooth Replacement
Do you wish your tooth replacement felt truly natural and looked seamless in your mouth? While there are many solutions for replacing teeth, dental implants provide the best longevity, functionality and esthetics possible because of their unique integration process. Dr. Pitarra will walk you through each step of the treatment and help you decide if dental implants from our Corpus Chrisit, TX dental team are right for you. Call her dental office today and she'll help you get started on planning your treatment!
Why Choose Sarah Pitarra, DDS for Dental Implants?
Dental Implant Placement Performed In-House
Exceptional Cosmetic Dental Treatments
Natural-Looking Restorative Materials
What is a Dental Implant?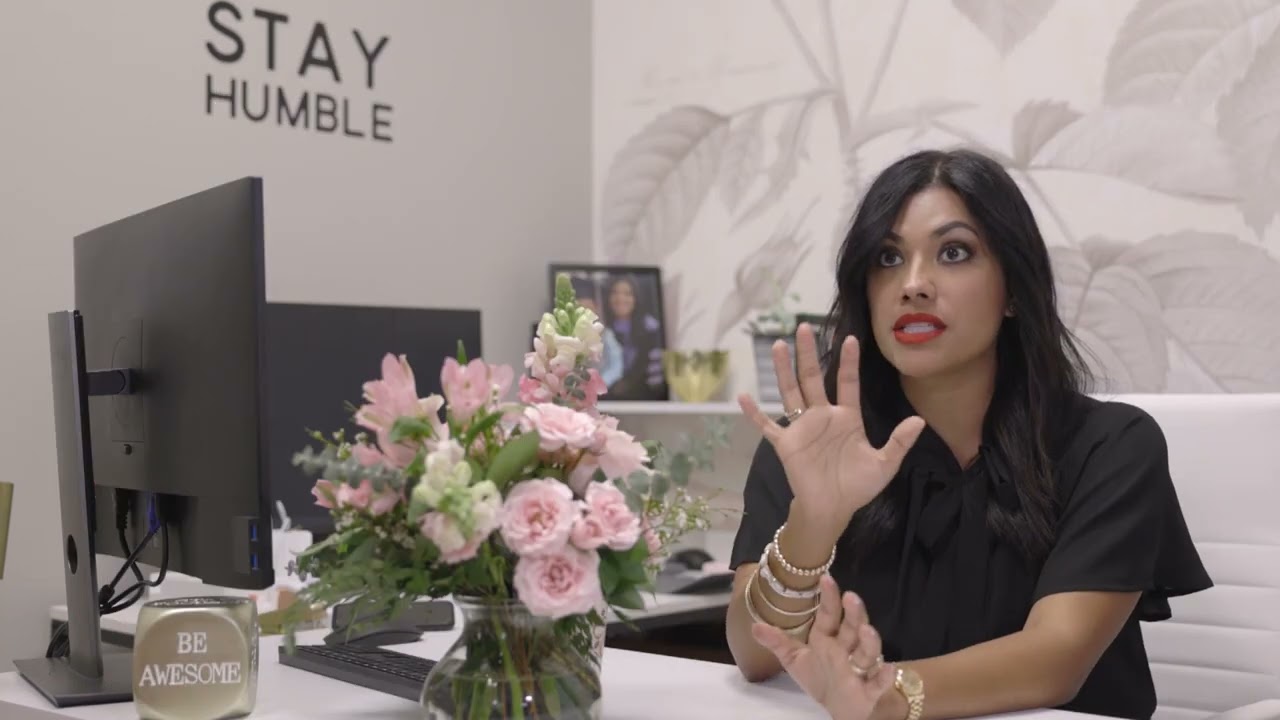 Dental implants are unique tooth replacements that mimic both the crown portion that completes your smile and the root that's integrated inside of your jaw bone. By replacing the root, you can begin stimulating your jaw once more and prevent bone material from resorbing back into your body. After the implant has had several months of time to heal, it will become fully part of your jaw moving forward. Dental implants are the only tooth replacement method that offers this level of functionality.
Benefits of Dental Implants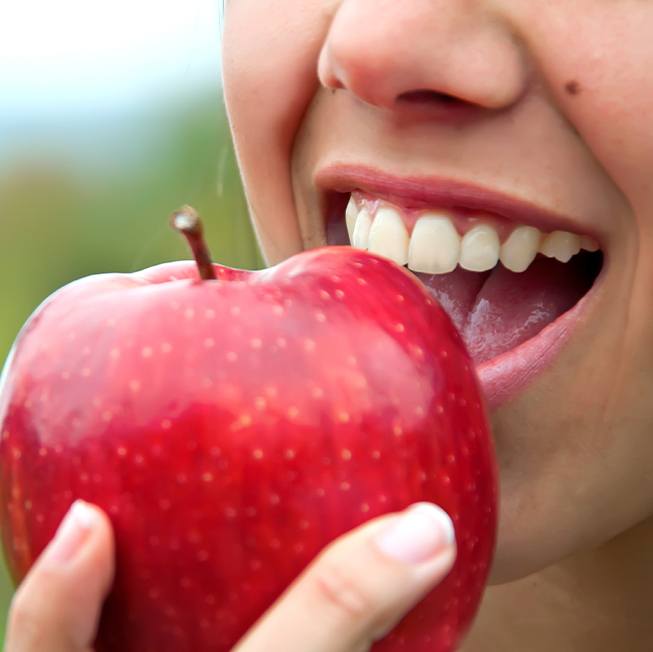 When you have a replacement root, not just a crown, your jaw bone is receiving the stimulation it needs to remain strong and retain its current shape. This is what gives you the ability to not only chew the foods you want (including tough or crunchy foods like steak and apples), but also make sure your facial appearance does not change. After all, tooth loss causes the face to sag as your jaw begins to break down due to lack of stimulation. With dental implants, you can avoid that entirely.
Since dental implants have such a high success rate, you can have confidence that they will last a very long time when practicing routine oral hygiene. With over 30 years of use, it's truly the longest-lasting tooth replacement available in dentistry to date. Unlike bridges, you don't even need to modify existing teeth just to have them placed.
Are Dental Implants Right for You?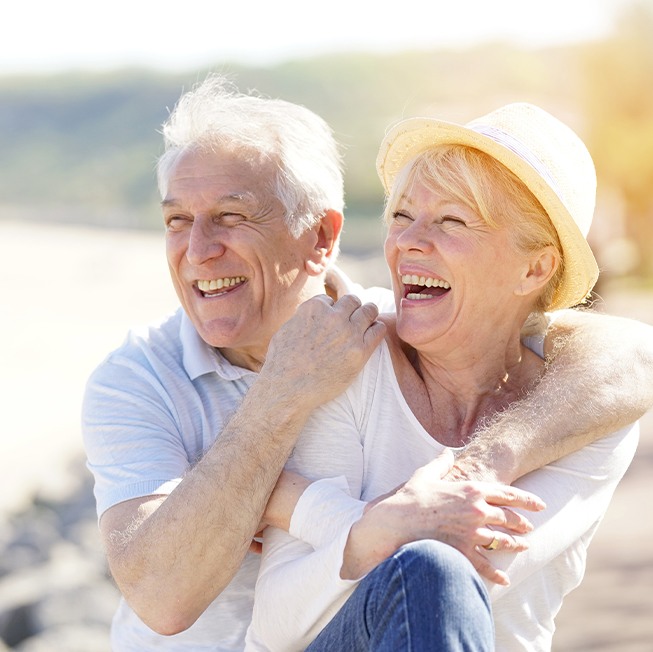 Dental implants allow you to enjoy the next best thing to your real teeth because they replace the entire structure of the tooth. This creates several advantages that are not possible with other treatments, including:
Replaces the Root & Tooth: The implant post substitutes the root to stimulate your jawbone while also providing a secure foundation for your restoration.
Long-Lasting: Dental implants can last for several decades with the right aftercare, like maintaining your oral hygiene.
High Success Rate: Dental implants have over a 95% 10-year success rate.
Natural Function: Regain as much as 70% of your biting force.
Enhanced Esthetics: All-ceramic materials allow your restorations to look natural.
No Damage to Other Teeth: Dental implants do not rely on your natural teeth to support them to improve your oral health overall.
Missing Single Tooth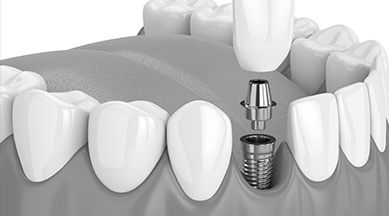 A biocompatible implant post is surgically placed into the jawbone to act as a new root. A special fixture called an abutment is connected to it to attach your dental crown.
Missing Multiple Teeth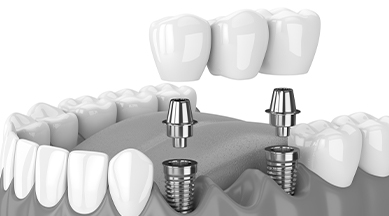 One or more consecutive missing teeth are replaced with an implant-supported bridge. Your prosthetic teeth are carefully crafted to match the appearance of your natural ones. The bridge is held in place using a dental implant at either end instead of placing crowns on the adjacent teeth.
Missing All Your Teeth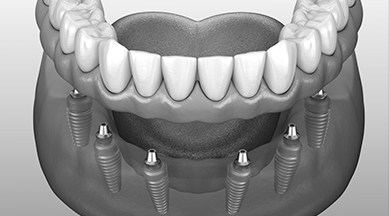 You can forget about slipping and irritation when speaking, chewing, or smiling. You can anchor your denture to your jawbone using an average of 4 implant posts. In some cases, the entire arch can be replaced in just one day.
How Dental Implants Work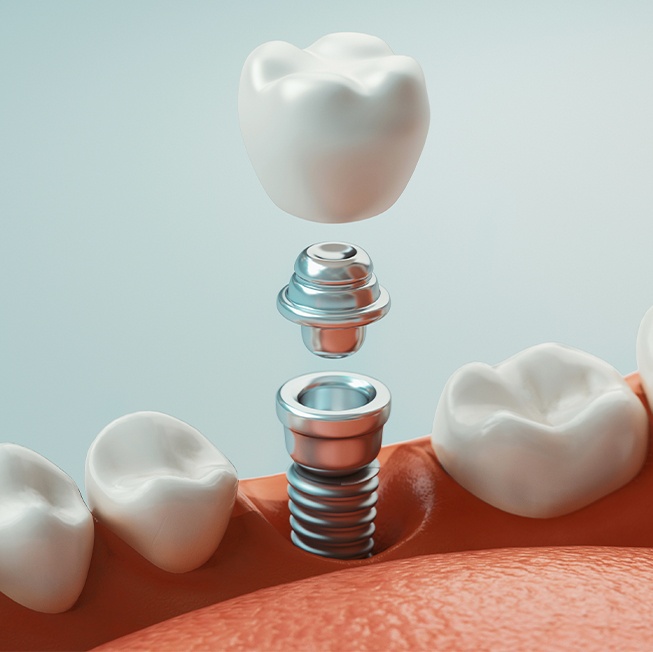 At our dental office, we perform all steps of dental implant treatment, including the placement and the restorative phase (where we determine whether you need a crown, bridge or denture to cover your dental implants.) We also place an abutment, which fits inside of the implant and gives the restoration a reliable foundation. Keep in mind that the length of your overall treatment will vary based on how specific your oral health needs are. For example, single tooth implants will take less time to complete than 3-unit bridges.
Understanding the Cost of Dental Implants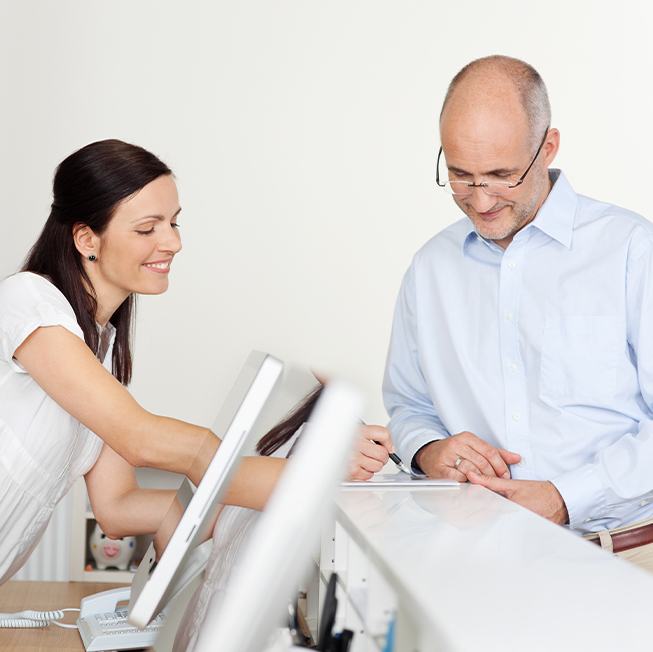 Dental implants are a highly customized treatment, so it can be difficult to predict the cost before we see you for your consultation. There are all sorts of different factors to consider. During your visit with us, we will provide you with an estimate and go over all associated costs, as well as your payment options, like dental insurance. Until then, here are some things for you to take into consideration about the investment that you're making.
Preliminary Treatments & Dental Implant Surgery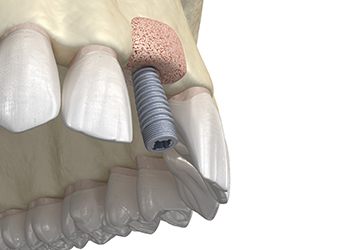 Any preliminary treatments that you need before you can get dental implants, like gum disease therapy, tooth extractions, and bone grafting, will contribute to the overall cost. For many patients, these treatments are necessary to ensure that the dental implants are successful. Preliminary treatments are sometimes covered by dental insurance, so this is something that you should double-check with your provider. Since we conveniently provide the entire treatment under one roof, you won't need to worry about working with an outside surgeon and needing to pay for the implant placement separately.
The Parts of Your Dental Implant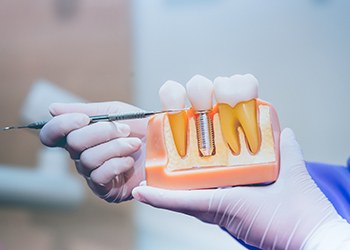 These are the main factors that will contribute to the cost of your dental implants:
Number of dental implants: Depending on the number of your teeth that you need to have replaced and where they are located in the mouth, you will need more or fewer implants. The more implants you need, the higher the cost will be.
Type of restoration: Crowns, bridges, and dentures all have different costs. Usually, the smaller the restoration, the lower the cost.
Size or material: Implants can be made out of zirconia or titanium. These materials are at different price points.
Brand of dental implant: Dental implants come from many different manufacturers. This can influence their cost.
How Dental Implants Can Save You Money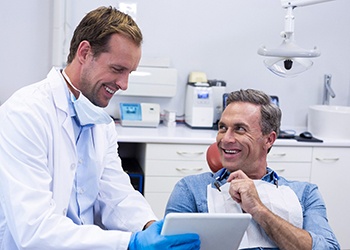 It can be tempting for patients to try to save money by opting for bridges or dentures instead, but dental implants have benefits that you can't get from other tooth replacement options. They can even help you save money in the long run. You won't need to worry about paying for replacements every 5 to 7 years either like you would for dentures, and there's no need to stock up on adhesives or soaking solutions. They can also help you to avoid oral health issues, like gum disease, misalignment issues, and tooth decay, that require costly treatments over time.
Does My Dental Insurance Cover Dental Implants?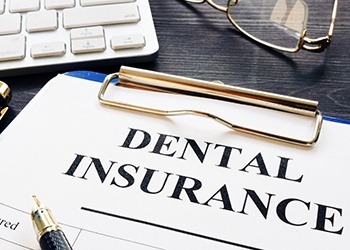 A lot of the time, dental insurance plans don't cover the cost of dental implants, but there are some exceptions. Parts of the final or preliminary treatments are often covered. Our team will gladly work with you to help you understand what is and isn't covered before your treatment begins. This way, we can help you fully maximize your coverage.
Making Dental Implants Affordable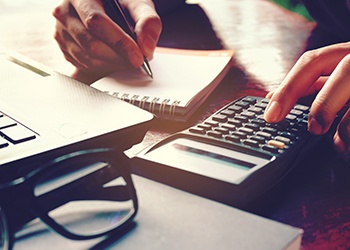 If you don't have dental insurance, this doesn't necessarily mean that you're completely out of luck. We work with CareCredit – a third-party financing company that can split the cost of your treatment into manageable monthly installments with little to no interest. To learn more about your financial options, talk to one of our friendly team members.
Dental Implant FAQ's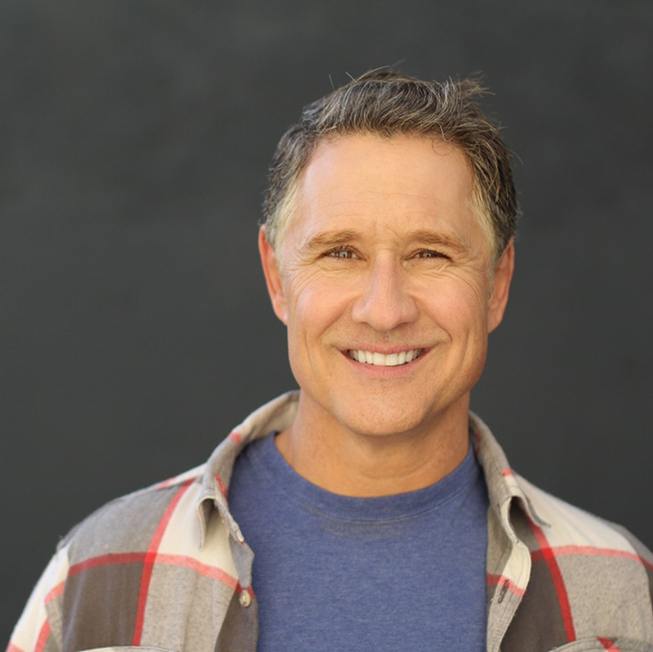 Are you still curious about dental implants in Corpus Christi? For any specific concerns, please don't hesitate to contact our office and speak with one of our friendly team members. Until then, we've also provided the answers to some of the most frequently asked questions about dental implants! Read on to learn more.
Does Getting Dental Implants Hurt?
We will always ensure that you're numb and comfortable before beginning the surgery. Most likely, you'll be sedated for a greater sense of relaxation, plus your jawbone doesn't contain very many pain-sensing nerves. The only slight discomfort you will experience is a little bit of soreness after the procedure, but this can be easily managed with our prescription or over-the-counter pain medication. Additionally, you can use a cold compress to numb pain and ease swelling. If it seems like your soreness is getting worse instead of better after 2 to 3 days, contact our office right away.
How Successful Are Dental Implants?
One of the benefits of dental implants is their predictability. As long as you get this treatment from a skilled implant dentist in Corpus Christi like Dr. Pitarra, your implants will have a success rate of over 95%. Mostly, the success of your dental implants relies on how well you care for your smile, your diet, and maintaining regular dental checkups. Additionally, the success of implants can depend on the location they are placed. For example, molars receive more strain from your daily chewing compared to your front teeth, which could slightly increase their likelihood of failure.
Am I Too Young to Get Dental Implants?
Because your jaw isn't fully developed until adulthood, dentists won't use dental implants for anyone under the age of 18. That said, your jaw may not be fully developed until your mid-20's, which is why the initial examination of your mouth during your consultation is so important. Dental implants need a healthy and strong jawbone in order to function properly. Notably, men's jaws will typically take longer to develop than women's do.
How Long Does It Take to Recover from Dental Implant Surgery?
As soon as a day after your surgery, you'll be able to resume your normal activities. However, avoid strenuous exercise during the first week or so because it could delay the healing process. Bleeding will subside after a few days, and your swelling will stop after about 3 to 4 days. Be sure to take our prescribed medication or over the counter medicine to manage any soreness you may have. The healing period is called osseointegration, which can last anywhere from 3 to 6 months.
Will People Be Able to Tell That I Have Dental Implants?
Dental implants and the restorations that come with them are personalized to meet your specific needs. Once your custom-made restorations are placed, they will look just like your original grin. In fact, dental implants allow your crowns or bridges to mimic the way your natural teeth emerge from your gums for the most beautiful smile.
Dental Implants Post-Op Instructions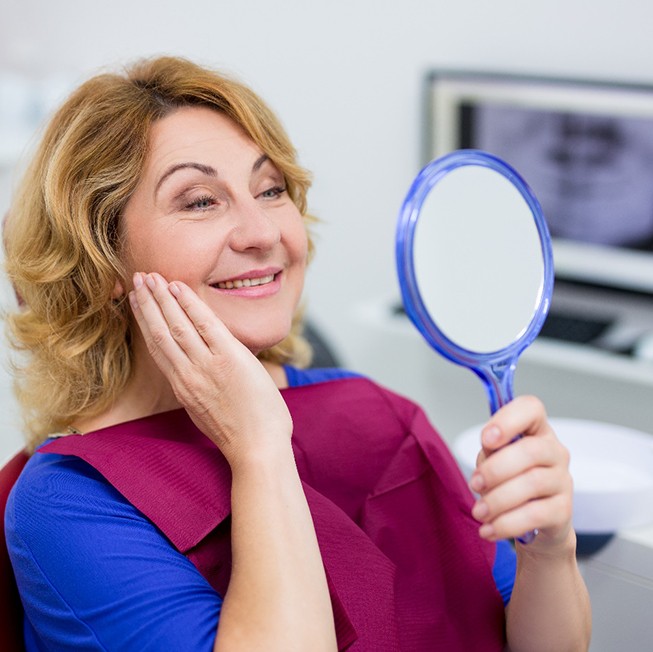 Many patients are worried about what it will be like to recover from dental implant surgery – and understandably so. Our team will provide you with detailed guidelines on what to expect and how to make your recovery as quick and smooth as possible. The details may vary from patient to patient, but below, you'll find a generalized list of dental implant post-op instructions in Corpus Christi.
What to Do Directly After Dental Implant Surgery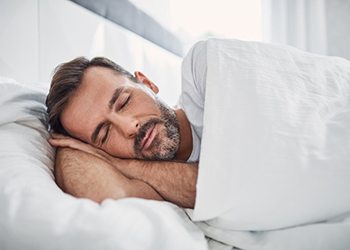 Following your procedure, you'll want to get plenty of rest so as not to hinder your body's healing process. Some patients are able to return to work the very next day, but if your job involves physical labor, you should ideally take two or three days to recover.
During this period, one of your top priorities should be to protect the blood clots that are forming over the implant sites. You can do this by:
Not using tobacco for at least three days (or a week if possible).
Avoiding drinking through a straw.
Trying not to use too much force when spitting or rinsing your mouth.
Refraining from touching the surgical site with your fingers or tongue.
Common Side Effects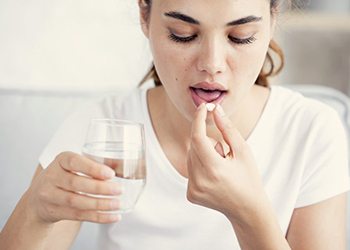 For a few days after getting dental implants in Corpus Christi, you can typically expect these side effects:
Swelling – It's normal for the area near the implant site to swell up, but this should subside after three to seven days. Cold compresses can help greatly.
Intermittent bleeding – We'll show you how and when to change the gauze pads after your procedure to slow the bleeding. Most of it should pass after the first day or so, but the site may bleed occasionally for the next two to three days.
Soreness – The area where the implant was placed will probably be sore for the next several days. Make sure to take your prescribed or over-the-counter pain medication as directed.
Diet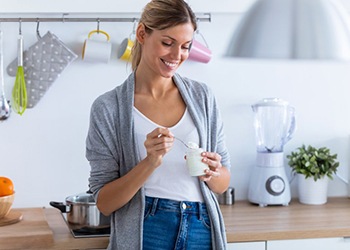 At first, you should only eat foods that don't require chewing, such as mashed potatoes, pudding, yogurt, and ice cream. As your mouth heals and you grow more comfortable chewing, you can start to add slightly heartier foods to your diet, such as meatloaf and scrambled eggs. Once you've worked up to your pre-surgery diet, still be careful not to chew directly at the implant site.
Health & Oral Hygiene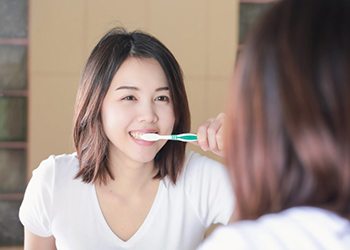 As with any oral surgery, proper hygiene is crucial after dental implant placement. Most patients should be able to brush and floss as normal, but take care to avoid the surgical site. We may prescribe you an antibacterial mouth rinse to use during your recovery. Be sure to use it as instructed, and do NOT spit it out too forcefully.
What to Do After Your New Teeth Are Attached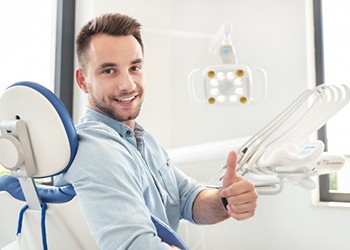 After your implant dentist in Corpus Christi has secured your crown, bridge, or denture onto your implants, your new smile is complete! You might experience some sensitivity in your gums for a day or two, but this should be mild and temporary.